All over the blog world you see very cool projects for creating an Art Gallery for your kids. Well I loved the idea. I was digging in my box of decorations for something different for my kitchen table and came across this sign I no longer use...AHHH its perfect! So here we go!
BEFORE: (cute but just not really used anymore)
I painted the outside fram a brownish color (I was originally going to do white-but after 4 coats trying to cover the blue...I moved on)
Then I popped thehears off the inside part of the sign.
I used some fun patterned fabric and Modge Podge and covered the words.
Can you believe how strong and stiff MP makes things! Its an amazing little product.
I then cut my letters using my Cricket and MP those on as well.
The clothespin I covered with corrdinating paper with MP and hot glued them onto the frame.
Here it is hanging on the wall. I like it, I think it came out well! I hung it low to the ground so that the kids could put up what they wanted to.
AFTER:
Check out this link for another one in the blog world:
Have a great day!
T.
PS, I linked up to the following this week: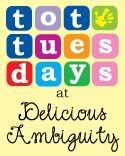 http://thegirlcreative.blogspot.com/2010/04/just-something-i-whipped-up.html